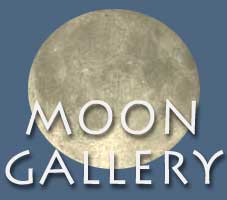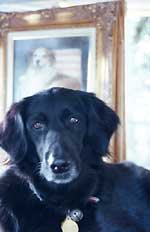 "Ash Wednesday"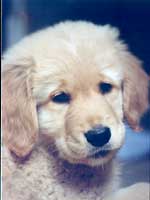 "Amber" ' 94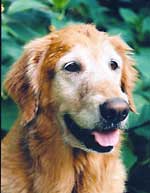 "Amber" ' 04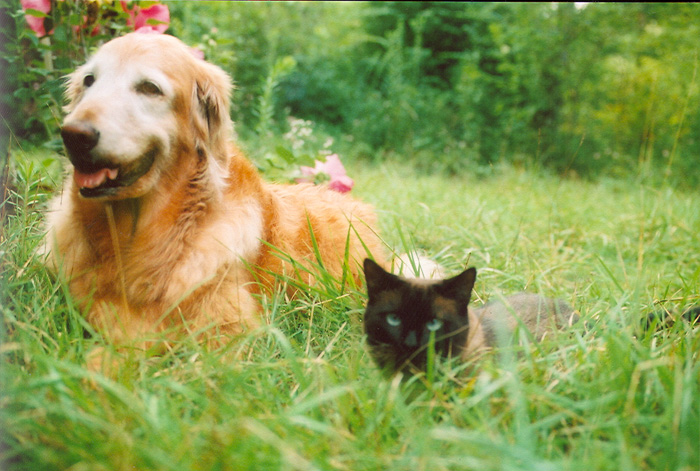 "Amber & Bucky" '07
Pets / Horses
Previous <------- Next

Saying Goodbye.......
Those of us whose hearts have been broken by the death of a pet understand how devastating this experience can be. We have lost a close friend --a creature whose companionship and unconditional love we've grown accustomed to, and sorely miss! When our dog "Ash Wednesday" died, we were inconsolable. She had a big presence in our lives and her absence left behind a gaping hole.
ENTER "AMBER" -- a beautiful, rambunctious Golden Retriever puppy -- full of life! Her exuberance and "joie de vivre" completely won us over! She made us smile through our tears and put our sorrow behind us.
Her portrait makes us smile -- it commemorates the years of happy memories she gave us, and is a reminder that we will fall in love again! A portrait can be enjoyed as a work of art, & also gives the viewer a sense of the subject's presence. We make every effort to achieve a likeness using available photos, combining them if necessary for the best expression, pose, coloring, and other important details.
For anyone coping with the loss of their dog, we highly recommend the book:
"Old Dogs Remembered"
an anthology of essays and poems by well known authors reminiscing about their dogs. It is a poignant tribute to Man's Best Friend. We received a copy as a gift when Ash died, and found comfort in the shared experiences of so many respected writers -- it is consoling to know that others have felt as we do.
"James Herriot's Favorite Dog Stories",
"James Herriot's Favorite Cat Stories" &
"James Herriot's Favorite Animal Stories",
also very poignant, funny, & uplifting -- especially the dog stories! The audio versions of these books are very entertaining, made by "Audio Renaissance" & read by Christopher Timothy, the actor from the TV production of Herriot's book "All Creatures Great and Small".
| | |
| --- | --- |
| | |